COVID-19 & GPL Services
Last updated: November 22, 2020
---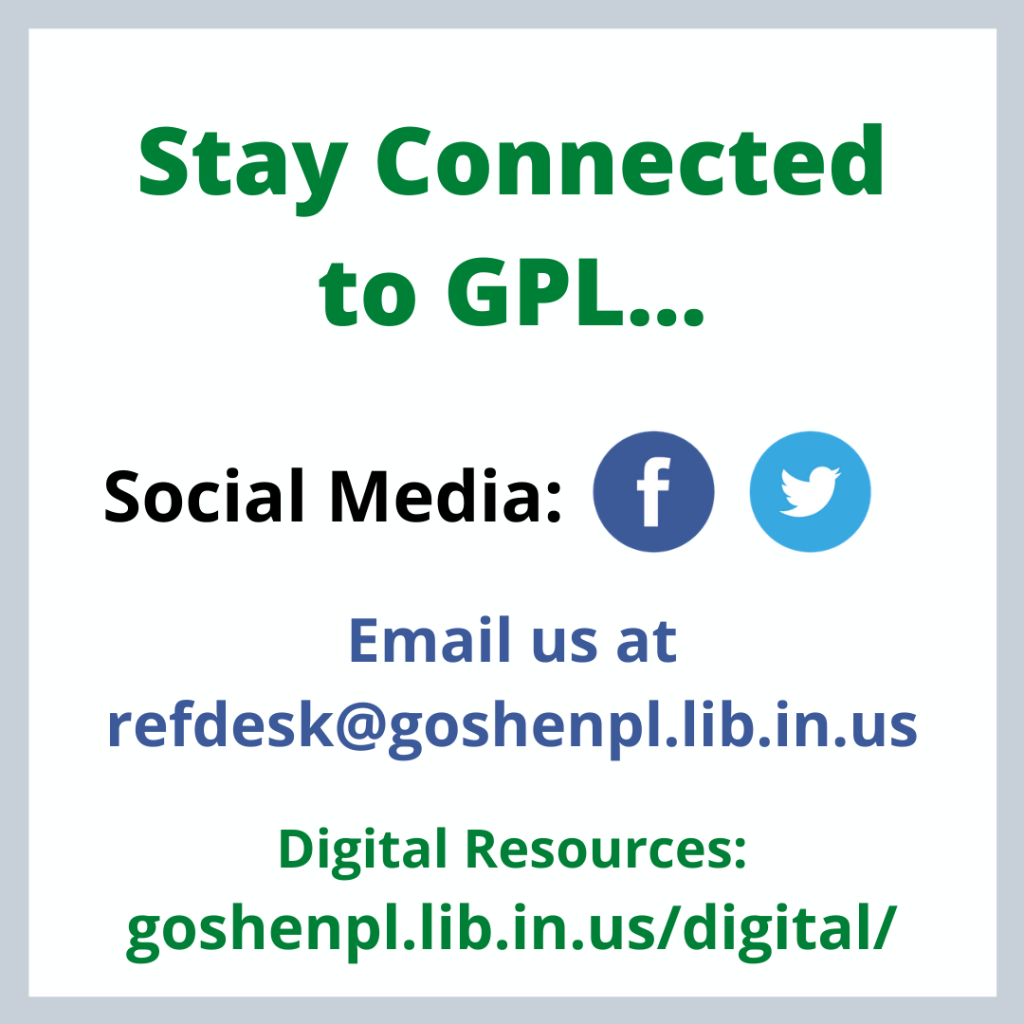 FAQ: COVID-19 & GPL Services
Click HERE to read a message from the Director outlining the steps we're taking to reopen.
New Hours: Monday, Wednesday, Friday – 12 pm to 6 pm | Tuesday, Thursday – 2 pm to 8 pm | Saturday – 11 am to 2 pm
*Each day, those age 60 and older and those at high risk can come in during the hour before we open to the general public – 11am to 12pm MWF, 1pm to 2pm Tu/Th, 10am to 11am Sat
What library services can I use?
The following services are available:
Browsing, contactless self-checkout, and holds pickup
Library card registration and renewal
Document services (fax, scanning, copying and printing)
Limited computer use
Curbside service available on an individual basis. Contact the library to schedule a time for pickup.
Here's what to expect when you come to the library:
We are asking all staff and patrons to follow the Elkhart County Department of Health's Face Covering Directive. If you do not have one of your own, we can provide one for you. If you do not wish to enter the building, curbside service and document delivery will be available. Contact the library at 574-533-9531 or submit a request using our Contact form for these services.
We are limiting the number of people who can enter at one time. We appreciate your patience if there is a wait.
In order to maintain social distancing guidelines, there will be very limited seating and no spaces for group meetings
Limit your visit to 30 minutes.
There will be plexiglass protective barriers at all the service desks.
How do I access ebooks?
Our digital content including educational databases, eBooks, eaudios, movies, magazines and more can be found by visiting our website at https://goshenpl.lib.in.us/reference-services/online-resources/
How can I contact the library?
Call the library at 574-533-9531 between 11am-6pm Mondays, Wednesdays, and Fridays, 1pm-8pm Tuesdays and Thursdays, or 10am-2pm Saturdays to talk to a GPL staff person. You may also submit questions using our online Contact form and we'll get back to you as soon as possible.
Why are items I returned yesterday still showing checked out on my account?
All materials returned to GPL will be quarantined BEFORE they are checked in:
books & magazines for at least 24 hours
DVDs, CDs, audiobooks & playaways for at least 72 hours
Three fine free days have been added to the items at check-in to accommodate this process. If you notice returned items still on your account after four days, please let us know.
Where can I see updates about GPL?
Please monitor our social media accounts and website frequently for updates and for educational and entertaining content created for all ages. These are rapidly changing times and so it is likely you will find our information may change throughout this period of limited access.