April Programs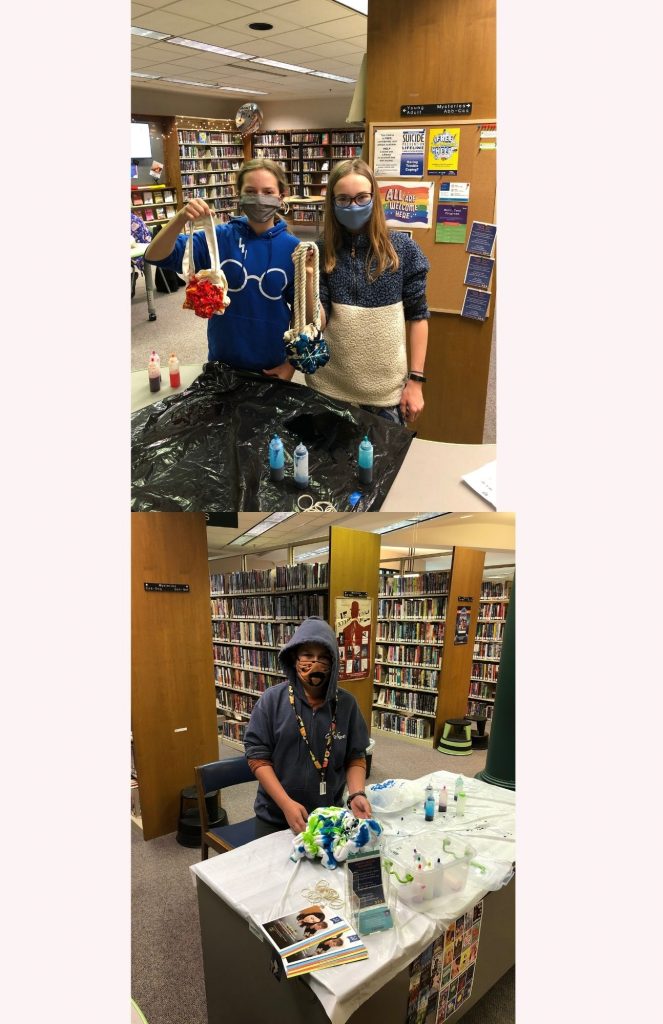 Check out some of our photos from last month's Tie-Dye program to the left! We had so much fun, remained socially distanced (the two teens pictured together are from the same family), and created awesome bags, shirts, and sweatshirts!
Monday, April 5th
Take-and-make monthly craft kits available the second week of April. This month is an Herb Planter! Kits are first-come first-serve, so come in as soon as possible. Included this month: two herb seed types, a small ceramic pot, pre-portioned soil, and transplanting instructions.
HERE is our interest form to fill out for Teen Advisory Board.
Thursday, April 15th
Teen Advisory Board is back, virtually! 4:00-5:30. Please use the form above to join us!
Thursday, April 22nd
Join us on Facebook Live (here) from 4:00-5:00 as we make Earth Day cookies. If you'd like to make with us, you will need to make/prepare sugar cookie dough, use green/blue food coloring, and get out any type of frosting you have in the cupboard, although white works best for food coloring!
Friday, April 30th
BLACKOUT Poetry Program! 3:30-5:30. All supplies will be at the library! We will create Blackout poems, read them aloud, and vote for our favorite (who will win a poetry-themed prize!).
---
BookMatch for Teens
Need a recommendation for what to read next? Try BookMatch! Just fill out the BookMatch form, and we will send you 3-5 personalized reading recommendations based on your interests. Whether you love to read or you can't remember the last time you enjoyed reading, we're sure to find something you'll like!
Get started here: BookMatch for Teens questionnaire
---
Follow us on social media!
Facebook: GPL Teens
Instagram: @gplteens
Twitter: @teens_gpl
Click here to subscribe to our email list, so you'll get all the info about our programs!
---
We are only offering some teen programs outdoors. Follow us on social media to learn about virtual programs & services!
Teen Programs
Teen Advisory Board
Homework Help