Community Stories – Myron
Last updated: May 26, 2020
---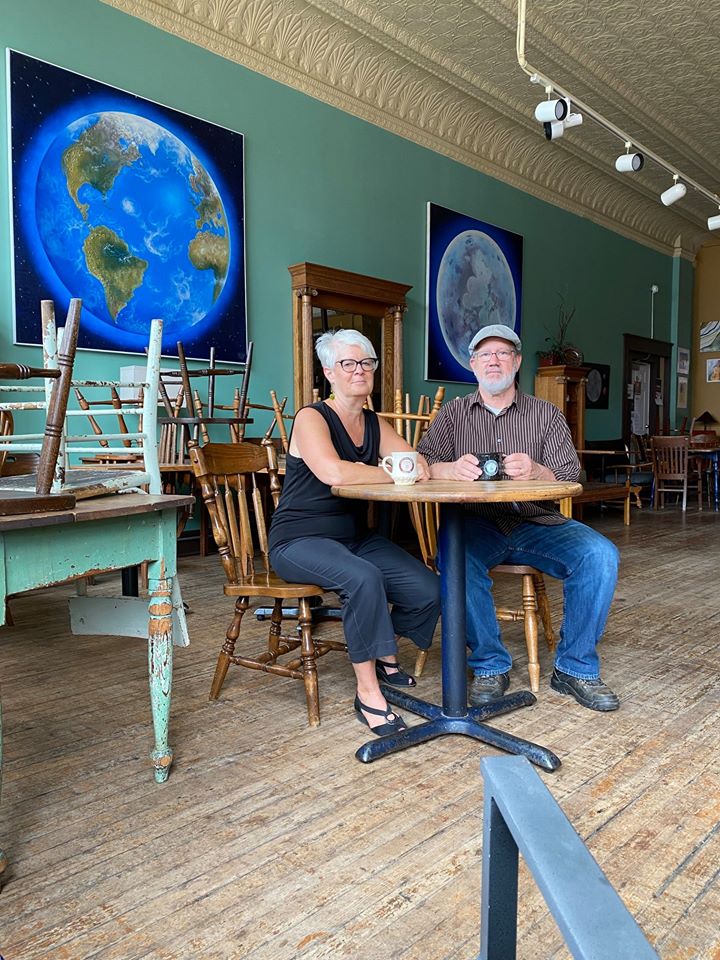 Community Stories: Life During COVID-19
Myron's Story

Here is The Electric Brew owner Myron Bontrager's story:

We have owned The Electric Brew for the last 13 years. We actually celebrated our 13th year on May 1st. Every year around this time, I remember the day and what it signified for me personally and for my family. However, this year, the day passed and it wasn't until later I realized we had passed our 13th anniversary. I suppose if I were superstitious, I would make a connection somehow between the number 13, the pandemic, and the day passing without my realizing it. However, since I don't pay much attention to those kinds of occurrences, I will simply say, it is probably metaphoric of the times in which we live. To say the least, these past several months have been pretty much of a blur and like most of us, I find myself wondering which day it is today.

My wife and I had the incredible experience of visiting a coffee producing co-op in Sumatra in February. We have been purchasing from this co-op consisting of 273 women members who all own and produce their own coffee. It was an incredible experience, and one we will never forget. We traveled back to the States on February 18th. We were asked repeatedly by airport officials if we had visited China during our time in the region. We of course had not and we knew they were screening because of the still little known (in our part of the world at least) Covid-19. We arrived home and began to hear more of the virus and see its impact on our country. In March, we saw it spread into the midwest. On the day that Indiana confirmed its first case, I went to Staples and bought two containers of hand sanitizers. I should have cleared the shelf.


Several weeks before Indiana began its sheltering-in-place, we knew it would eventually hit us and we would be severely impacted. We began to see sales dip, and knew at some point we would need to make some major changes. The weekend before the order was issued, Jeremy, our son and part owner, spent the weekend beefing up our online ordering system. We had been using it some but most people preferred to come, order, and hang out. So it was fairly unused and basic. He spent hours configuring every possible order combination and set it up in the event we would need to go to all online orders. We were still dining in at that point. On Monday when Gov Holcolmb issued the shelter-in-place order, we knew we would need to move fast and make some serious transitions. We were still open until 10:00 pm, but at 6:00 that afternoon we decided to close at 7:00 and to begin carry-out only the following morning. We changed our hours immediately to 7-4 with walk-in/carry-out and encouraging customers to order online, walk in and pick up with touchless transactions. That evening as I watched my employees walk out the door, I flipped off the lights, sat at one of the tables by the windows, and it hit me: we would never be the same again. I let the possibilities scroll through my mind as I sat there: 1. It is possible we will never open again. While I thought that was low on the list of possibilities, I still knew it might happen. 2. We would be shut down for a short period and we would stumble a bit, but things would get back to normal before too long. I assumed that was also probably not going to happen, but it doesn't hurt to wish. Or 3. This would be an extended period of extremely difficult economic times and we would have to claw our way back to survival and hopefully someday flourish again. I sat at the window and wept. I saw 13 years of a lot of hard work ebbing away. I wanted to reach out and sink my fingers into the sun as it was setting and pulling it back as if that were possible and as if it would make any difference. I sat there for about an hour, before I could force myself to get up and go home. I felt wasted.

We did the carry-out for about a week and a half when we felt the need to shut down and do only online orders and curbside or delivery. We ran specials, delivered, carried to curbside cars, anything we could just to keep a little of the cash flowing. We closed down not because we were part of the shut down order. We were considered essential, but at the same time, I felt we were putting our employees and customers at an unnecessary risk. There was so much unknown about how we were supposed to be protecting ourselves and our customers, that I asked myself if I was willing to risk someone becoming infected at The Brew knowing we hadn't done everything we could have to avoid it. So we closed and we began to reconfigure our thought- processes, etc to maximize the protections for all those who enter our space. We installed barriers, created empty spaces, made available hand sanitizers, required masks of customers and our staff, etc. I hate the masks, just like everyone else. There is plenty of disagreement of whether they are effective or a waste of time and material. I have described it to my employees like this: none of us are smart enough to know how effective they really are, we are all dependent on the research and opinions of others and we choose what we will do and why we will do it. In twenty years from now, we might discover they did absolutely no good at all. Then we will laugh at how silly we were. On the other hand, we might find out they actually saved lives and then we will feel good about having taken the chance of looking silly. If we over-react and look silly, we will laugh. If we under-react and people die, we will weep. I choose the option of laughing over the possibility of weeping. There will be plenty of opportunities to weep, let's try to avoid this one if we can. Maybe that's too philosophical, but so be it.


When we closed, I thought I would have time for some hobbies, getting lazy and sleeping in. I found the next weeks as busy as ever. I spent days shutting things down, freezing product when possible, giving away perishables, giving away roasted coffee, etc. Since we laid off all staff, I spent the days at the brew prepping online orders, delivering coffee, repairing things, building barriers, and so on. I was busy and I was glad, as long as I kept moving, I didn't need to think too much. Then I began to apply for the payroll protection program, wondering whether it was really a good thing or would we look back and see that it actually put us in a bind. After all, borrowing money to pay employees when there really wasn't anything for them to do and hoping it would be forgiven later, is a risk to say the least. I am still up for grabs on that outcome. We brought our employees back on payroll and had one come each day to take care of online orders and a few odd jobs.

As the shelter-in-place began to be eased, we decided to reopen in reverse of closing. We wanted to learn what we didn't yet know as we opened to the public again. The systems were different. The employees would have to learn how to do the same things in different ways. Muscle memory would need to be unlearned and relearned. This is the second week now that we have been doing walk-in/carry-out. It has gone fairly well, but the employees have been glad for the slow reopen. We will likely start dining-in June 1. We will want to continue to incorporate distancing, masks, sanitizing, etc. to continue to provide as much protection as possible for our customers and our employees.

I have had so many surprises. I discovered how much The Brew is part of my life. I felt a ripping in my soul as I had to let go of how things had been. I was not surprised, but I was encouraged at all the words of support for our Brew Family. The employees expressed encouragement to us as we told them we would have to let them go for a time. One shared that she went home and it hit her how much she loved her co-workers, and she wept. I had customers send notes saying they appreciated the responsible way we were handling the circumstances. I received a message from a customer asking if we had a paypal account as he and his wife wanted to give part of their stimulus money to the brew. I have had friends and customers say, "I'm rooting for you." We had a friend ask if she could make face masks for our family and the employees. She bought some coffee themed material and gave us 20. And it goes on… None of this surprised me, but it was certainly encouraging and gave me the courage to continue fighting for something we believe in, something that brings good to a community, and ultimately makes people smile. When I get discouraged, and I have had a number of sleepless nights, I try to remind myself of those who surround us with love, support and believe alongside us.

As I said, I don't think we will ever be the same, and I think we should not. I hope I am more aware of how much we love our community, and find new ways to make Goshen a better place. I hope we cherish the relationships we have and the part we play in providing a space for those to develop. I hope we can bring a bit of peace to a world that is becoming more fragmented every day. I hope we can find new ways to bring a bit of relief to the most vulnerable among us. I hope we can look past our disagreements and find commonality and rediscover love, genuine love. I hope that my small-business neighbors all make it; there are some awesome people trying to survive just like we are. I hope that we learn how to better work together, and continue to watch Goshen become even more special. Sometimes I wish I was 44 instead of 64. I believe the next 20 years are going to be special. As much as I hate this time, I believe it will make us better and so much stronger.


Click here to find more Community Stories