Community Stories – Magali
Last updated: June 2, 2021
---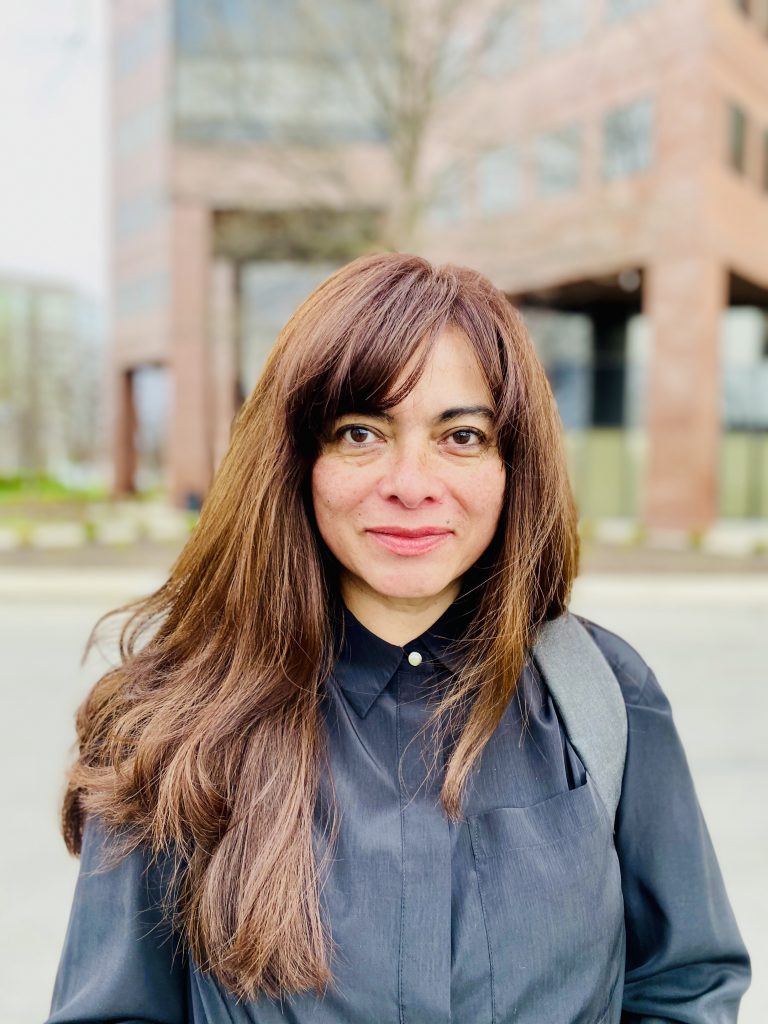 Community Stories: Life During COVID-19
Our story comes from Magali Charlebois, Goshen Community Schools' district translator:
I am from Mexico City and have had a busy, mind-blowing life. I worked as a private school teacher and studied French Culture and Civilization with a specialty in Literary Translation at the National Autonomous University of Mexico, a huge university. I attended plays, movies, concerts and met my friends on the weekends. I planned to move to France after graduating, but as we all know by now, life changes in unexpected ways.
Instead, I moved to the United States – a significant change and a greater challenge. I spoke French, but just a little English. Of course, I never thought of the mingling of wonders and unforeseen events that I would experience. If I could go back in time, I guess I would not do it again. I mean, it is not like traveling. Moving is abandoning all that you are possibly forever. It is losing everything known and living through the unknown.
I moved to Memphis, TN, and met some cool people. The unknown turned out to be excellent, like a fantastic piece of jalapeño cheese bread with cream cheese or live Blues music in downtown Memphis. Yet, some things, like the super sweet flavors in all the food every day, made me wonder if I would survive! Even in beans! The "extreme" hot and humid weather, and of course, the language. Believe it or not, these things made me consider if I wanted to go home many times.
Shortly after this, the best thing in my life happened: Sophia. She made my life easier, despite the stress of having a baby and in English! My life started to look better. I had Sophia and friends, but then, things changed again. We had to move to Warsaw, IN, and start over again one more time. In Warsaw, I met one of my best friends. She eased my time in that city with her laugh and her food.
One day I came to Goshen for dinner. As soon as I was passing the "Welcome Goshen" sign, I wanted to live here. Why? I do not know. I liked it. Goshen was small and slow, but pretty. At that time, downtown was dead, except for the Electric Brew. I passed the language test at Goshen College. I enrolled and studied hard. Sophia spent her evenings and nights with me in the computer lab until 3 a.m.
I met friends again, from all over the world – Russia, Ethiopia, France, Puerto Rico, Libya, Germany, Thailand. We felt distressed together in our international club at my house. Despite being from different places, we shared the same reality of speaking English as nonnatives. I graduated and worked as an ENL teacher in Elkhart and Goshen, but I love translating. I became the GCS District Translator and furthered my Translation and Localization studies at the University of Denver. I love cooking, cinema, sea turtles, spontaneous backpack traveling, or planned backpack traveling. My favorite spots are GBCo with its Pad Thai and Lalo Cura beer, and the Brew with its scones and Breve. I love walking alone or with my dog Lolita at Fiddler Pond.
Sophia, now 22, will soon graduate from Goshen College. She has been my driving force and my direction. She was the reason we first visited the Goshen Public Library 20 years ago. We used to get books and movies on tapes! Later, I worked as a Spanish instructor there. Last March 2020, I tutored a third grader who learned how to find books by himself because GPL staff is obliging.
Life was good, but the pandemic came. GCS sent its staff home. I kept translating all required information into Spanish as if I were sitting in my office, but instead of working 8 hours, five days a week, I worked whenever there were updates, including Saturday and Sunday nights. Nothing seemed tangible; a Monday did not feel like Monday and a Saturday either. I did not know what day it was, and I didn't care. It was surreal. I kept myself informed, followed the guidelines, and witnessed people's struggles. I relearned, like everyone, to live in the era of the new normal. Although my cinema club tried to implement cybernetic drinks and a Netflix Party, it was not worth it. I had to postpone my trip to visit my family. However, I am fortunate. I had the chance to be with some of the people and non-people I love the most: Rafael, Sophia, Andrew, and my pets. We were in quarantine together. I also grew the yearly basil and tomatoes because I love pesto and tomatoes in all forms. I grew hanging cucumbers and watermelons, and I am doing it again this year.
Life has taught me that we cannot give up despite hard times. We must consistently carry through. The pandemic happened this time, and I am sure that, after this is history, we will have to carry through one, or two, or three more times. Life is always about finding the best way.
Click here to find more Community Stories