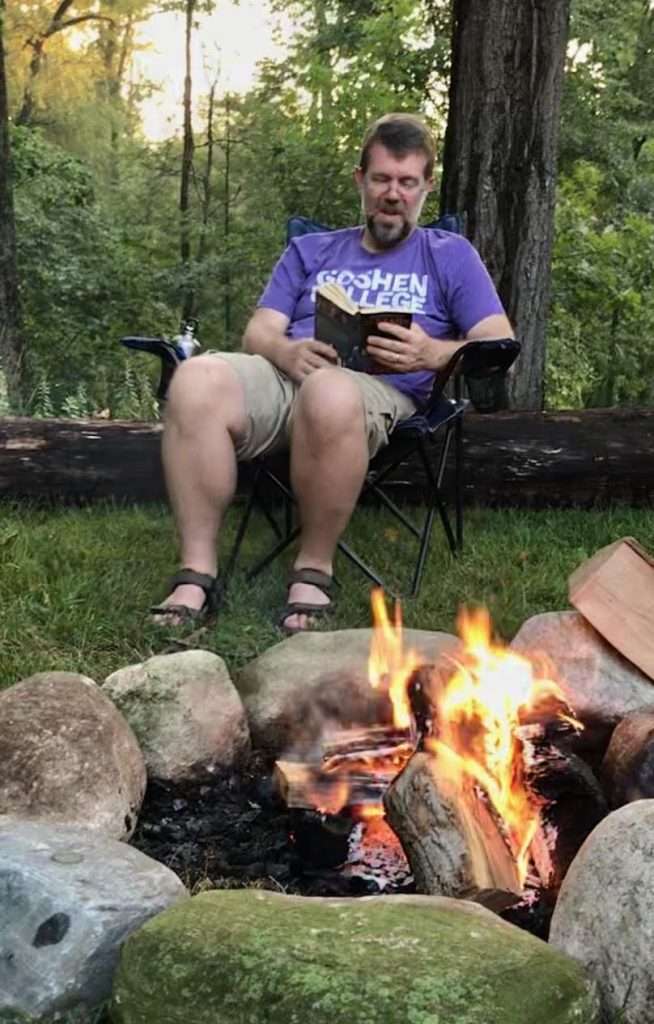 Community Stories: Life During COVID-19
Our next story comes from teacher and GPL staff and patron Ryan Miller:
Reading—specifically connected to the library–has been part of my life for as long as I can remember. During my elementary school years, my mom was a children's librarian at the downtown branch of Elkhart Public Library. I spent many afternoons and evenings wandering the stacks of the children's room and reading what I found. I remember crossing the line to search for my first "adult" book—The Sword of Shannara by Terry Brooks. (Thanks for the rec, Nathan Mateer-Rempel.)
I worked as a page for the Pierre Moran Branch for three of my high school years and intriguing-looking books often detoured into my backpack instead of directly onto the shelves. The library invited me to explore new topics, learn about the world and expand my interests. Libraries are so important to our family, that we have included the local library in our visits whenever we have thought about moving, and we often stop in at libraries when we vacation.
When we shut down in March, losing the ability to walk the shelves was a big part of our family's loss. In fact, it may have been the biggest loss. Both of our children have grown up looking forward to hauling full book bags home from our Saturday library visits and frequent renewals (not to mention a heap of overdue fines because well-loved books are difficult to return). Our daughter, now starting eighth grade, did not check out books online for quite a while because browsing digitally was not the same as browsing in person, and she missed her time in the stacks. We are slowly learning how to browse online, thanks in part to the browsing shelves on the GPL website. Through Overdrive, Hoopla and rbdigital, plus GPL's curbside services, I was able to continue my habits of reading through fiction and non-fiction titles at the same time, while adding audiobooks to my routine. Reading a book on a screen is not the same as flipping the physical pages, but the ideas remain.
For 15 years, I was a communicator—writing, photographing and editing either for a newspaper or in public relations. My job was to reflect and communicate the ideas of others. I suppose I'm still working as a communicator as I begin my eighth year teaching elementary school students. This year, I teach third graders at RedHawks Online Academy, working out of my home school of West Goshen Elementary. Until this year, I spent the last three summers working part-time in the GPL Children's Room. Both jobs involve helping kids find the books that excite their imaginations, feed their knowledge cravings and open new worlds of fact and fiction. I love connecting with children and parents as we search for the books they sought, even if they didn't know they sought them.
This year, I stayed away from my summer job. Both my wife and I are immunocompromised and an indoor location was not the right choice for us. Those health concerns are also why I'm teaching online this year, working to connect with and educate a group of 8-year-olds through a screen. Moving from a world that emphasizes the physical into a world that focuses on the virtual is a challenge. Some of the changes are not easy, and some are not positive. However, at least for this time, the changes are needed. 
There is a critical place for libraries in this emerging world. We need, more than ever, to have access to ideas that stretch our thinking and help us consider new ideas. Books give us those ideas. Libraries give everyone access to those ideas, whether physically or digitally. We also will need places that can help us connect to resources in the community, which the library also is doing.
Change is inevitable, and emergencies like our current pandemic accelerate the rate of that change. Making adjustments, like wearing masks, is not always comfortable and not always ideal, but helps us find the best way forward. 
Click here to find more Community Stories