Community Stories – Marshall
Last updated: June 8, 2020
---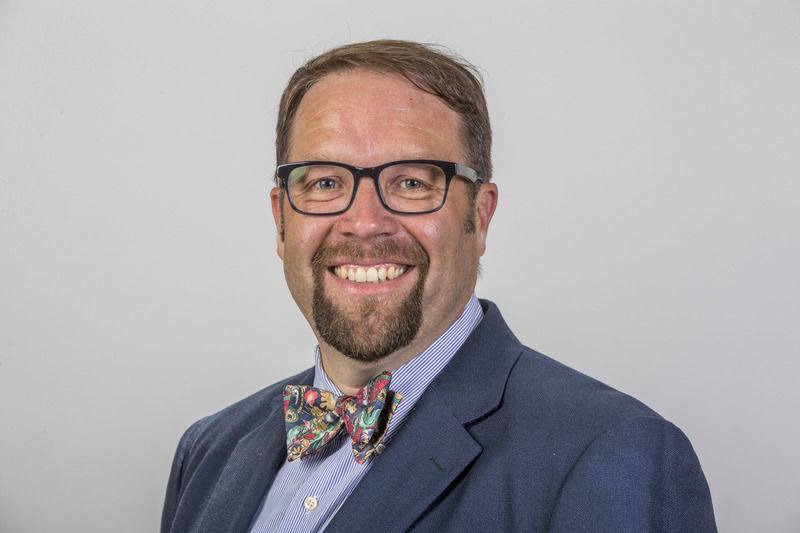 Community Stories: Life During COVID-19
Marshall's story

Here is local freelance writer Marshall King's story:
As a boy in elementary school, we lived in the country, but paid for a card at Goshen Public Library. I would come to town with my mother on summer days when she worked at a home near the library and visit to stock up on sports biographies and other books. I fondly recall the chu-chunk of the machine that stamped due dates on the cards and the way librarians helped us navigate the library and its programs. (The basement auditorium was so cool on a summer day.)
That love of reading that I had as a boy translated to a life of putting words together for newspapers and other settings. As an Elkhart resident and journalist, I loved visiting branches since it was one of the things I covered. (Libraries don't generally generate a lot of news, but when they do it's important.)
Since moving back to Goshen 10 years ago, I've again fallen in love with the services that are part of the public good and believe in those deeply. I believe in the things we pay for together because they make us a better community and the library is part of that. Now I also love the electronic ways we can access information. I'm a huge user of the RBDigital app to read magazines and love being able to download a book for a time rather than giving Amazon more of my money.
The closures of our schools, workplaces and businesses was startling and nothing we could have imagined. The news coverage of the pandemic, politics and now civic unrest is difficult to take in. Yet like the public good, I believe in our ability to come together and find goodness as a community. That may take time and may happen in different ways, but I believe in it.
I see value in shedding some of the routines and have-tos that we had accumulated and being able to hold our patterns up to the light to test their value as we look forward. I'm concerned about our economy and how retail and restaurants will survive, but I've been impressed by the creativity people are showing.
I've been working at home and have enjoyed doing more baking and cooking in a newly renovated kitchen. (Food magazines and downloads have helped the cause.) I've been surprised by sourdough bread actually rising and the way I've grown to love cooking even more.
As a freelancer the last four years, I've often worked from home, but had used Zoom sparingly until all this. I've been working from home as a freelancer and for the Community Foundation of Elkhart County. The relationships with some of my coworkers have grown stronger as we've navigated how to do this together. I restarted my email newsletter (sign up at hungrymarshall.substack.com) and the response to that has been heartwarming.
I miss people and being able to hug or shake hands. I miss feeling comfortable out and about. I miss people serving me food. Yet I want us to wear masks and take other precautions to not just flatten the curve, but take all this more seriously than we are as a society overall. Our society is changing, seemingly at fundamental levels. I won't make bold predictions. I just want us to come together and support each other and the public good.
Click here to find more Community Stories