Community Stories – Karla
Last updated: August 12, 2020
---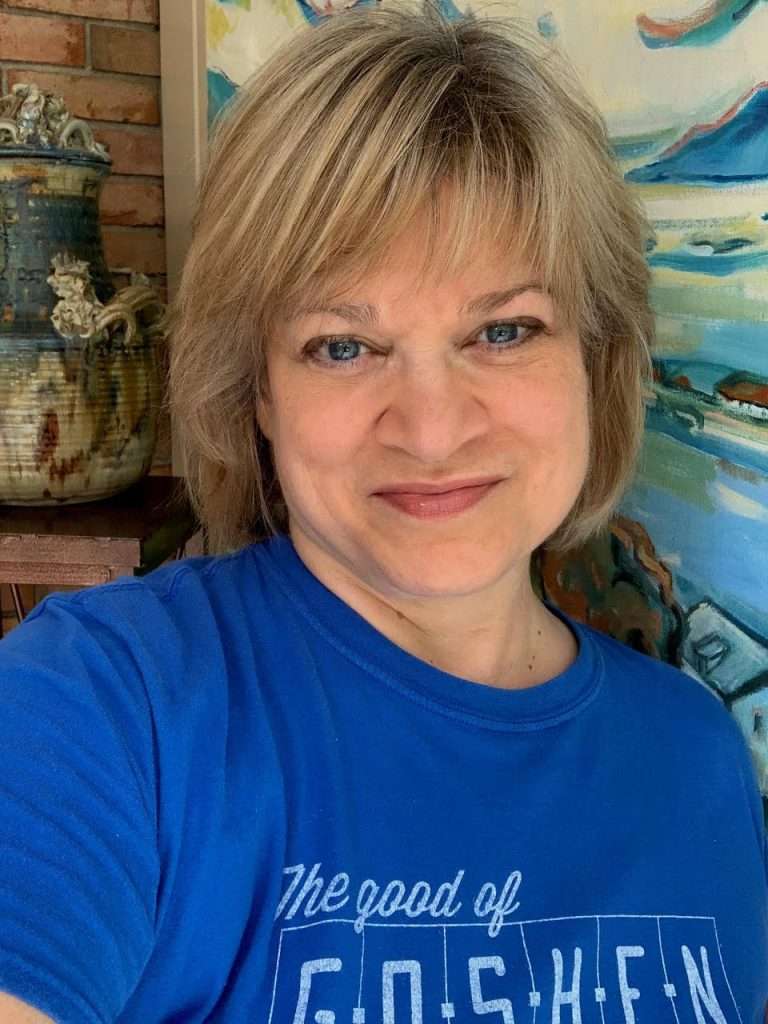 Community Stories: Life During COVID-19
Here is our next story by Karla Rieth, board secretary and co-chair of the book room for the Friends of the Goshen Public Library:
Two hours down US 33 is Mercer County, Ohio, population c. 40,000. I grew up in Celina, the county seat. My parents moved off the farm before I was born, the youngest of six. Dad was a truck driver/used car dealer & Mom a bank secretary. I was a tomboy, riding minibikes and 3-wheelers in the woods like a little hellion. As a teenager I detailed cars for my Dad.
I am thankful that my parents instilled in me a love of reading. Mom took me to a  local library weekly, where I was greeted by a Kodiak bear and Polar bear –stuffed and standing over 10 feet tall, they were on loan from a local doctor. These giants coupled with stories of bear attacks in Drama in Real Life stories in Reader's Digest led to my fear of bears! At Yellowstone National Park as an adult, I saw two grizzly bears (albeit from a distance) and bravely remained calm for my kids' sake.
Our home was full of reading material: comic books, Readers Digests (RD); my brothers' Louis L'Amour books, my mom's Harlequins; dad's RD condensed books & Time-Life book sets on WWII; several local newspapers, and more. I loved to read. At Miami University in Oxford, Ohio, I studied art education and English. I like writing and editing and use those skills with Friends of the Goshen Public Library (GPL).  
At Miami I met my husband Bill. In our 34 years of marriage we have lived in Chicago, in my hometown of Celina, and now 20 years in Bill's hometown. In 1996-97 we lived in Russia for 18 months, working with teachers. Our homes were full of reading material for our three (now adult) children. I would purposely 'plant' books and magazines around the house. I allowed the kids to earn spending money for the County Fair by reading books, and it got them all hooked on reading.
Shortly after moving here I joined Philomathians, "Goshen's oldest literary society." A friend there asked me to volunteer with Friends. I soon joined the board, becoming secretary. I am now co-chair of the book room. I enjoy using my organizational, writing and artistic skills for Friends, finding creative ways to market our book sales which raise funds for items not in the library's budget. 
Before COVID-19, I worked about 10 hours a week, sorting and pricing books, replenishing our lobby shelves, or working at home on the computer. This changed when things began closing. My last day at GPL was March 13. Our March sale was cancelled, followed by May and July. Bill, who is President of United Way of Elkhart and LaGrange Counties, continued to go to work nearly every day – this time of need was United Way's moment to shine in the community.
The pandemic was of special concern to Bill and me; in January our daughter Liz (a former page at GPL) had flown to Spain to study at The University of Granada. Back then, the virus was not even on our radar; by mid-February COVID-19 had struck Italy. We watched in disbelief as things deteriorated, Spain becoming the next hot spot! We were to travel to Spain in April. By March 10th, our trip was cancelled, and Liz was being sent home 2.5 months early.
This time was stressful. Bill felt I was watching too much news, as it was making me anxious. (Me and everyone else!) However, we needed to know the latest information, with our baby halfway around the world! And things were changing hourly – like dominoes falling. 
We prayed for Liz's safe return and we thanked God when she came home on March 17th; for by then all travel to and from Europe had been suspended.  It was surreal how quickly this happened. Because I had picked Liz up at the airport, we were both quarantined for 2 weeks. At the end of our quarantine the lockdown had begun for everyone – and just like that, the world changed. 
As an introvert, I didn't mind staying home. I love to bake and tested several cinnamon roll recipes. Having another person at home meant I also had to cook 'real' meals. Cold weather, quarantine and overwhelming circumstances led to me eating more and being sedentary; which brought on the 'COVID-10' pounds. During the pandemic we have read, played games and cards, and done puzzles. We have also binge-watched TV, movies and Netflix. Desperate times call for desperate measures! 
Early on, I tried to reach out to others every day to help my own mental state. I called/texted people and sent notes. Bill & I Facetimed friends, family & our children. (I've actually reconnected with several old friends.) I kept a list of who I had contact with; this helped me feel like I was 'accomplishing' something each day. When motivated, I cleaned office files and closets. Once spring came, Bill & I ventured outside, and gave our yard and garden extra attention. They look the best they have in years! We take frequent walks and often end up visiting with neighbors.
I stopped by GPL when curbside service began in May. It was good to see the staff. Since the July re-opening, I am again working in the book room. Our lobby books and magazines are FREE until August 15th as a way to encourage the community. We hope to have a sale this fall. If not, we will be creative and develop new ideas; necessity is the mother of invention! 
What positives have I seen in this? Relationships have become dearer. People have learned that running to and fro' with busyness is not necessary. We have come to value connecting with others, either virtually or physically. I have gained more compassion, learning that many people feel isolated, despondent and overwhelmed. I am also glad that most public spaces are getting a deep cleaning on a regular basis. (Hallelujah!) 
Judging from the number of people who utilized GPL curbside pick-up, I know the library is valuable to the community.  I hope Friends can continue to play an important role in the community as well.
Click here to find more Community Stories