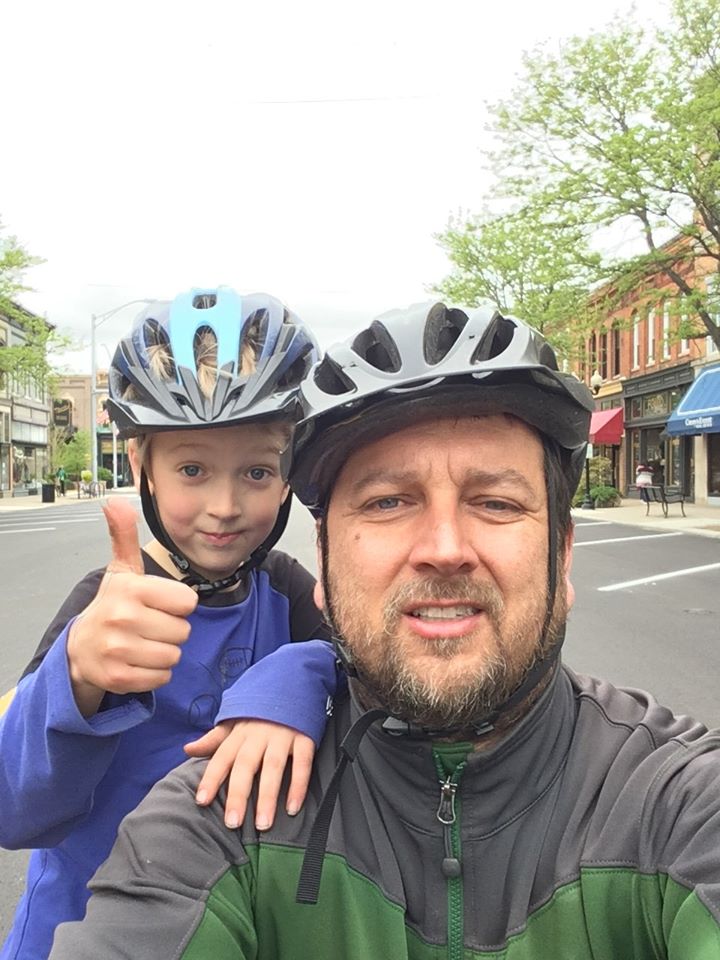 Community Stories: Life During COVID-19
Greg's Story

Here is GPL patron Greg Imbur's story:

I've enjoyed libraries my entire life. Growing up in Virginia Beach, I enjoyed multiple locations, some of which were quite large. As an undergraduate in Williamsburg, I served as an intern in the Children's Department of the local library; I also worked in the College of William & Mary's Music Department's library. As a graduate student in Oxford, I remember reciting an oath not to "kindle flame" within the walls of the Bodleian before gaining access. As a professor of literacy, libraries were once again central to my work, and I served on the board of the Platteville library while teaching in Wisconsin.

In the decade I have lived here in Goshen, I've appreciated how the library serves so many functions for my family and the community. Our children have participated in the reading programs, and my wife and I also use the library for various purposes.

Since the shelter-in-place orders went into effect, the biggest changes to my routine are the amount of time spent with our children. For the most part that has been truly enjoyable, but my wife and I sometimes wish both our children could have more play dates and contact with their friends. I guess we'll see how that goes this summer. My work schedule has shifted a little to allow me to work earlier in the mornings, which helps me stock the bulk department at Maple City Market before customers arrive, and also to help with child care.

Our house needed renovations, cleaning, and organizing, and this time at home has certainly allowed us to tackle those tasks in a way that might otherwise not have happened. I'm truly grateful for that, as our quality of life becomes less stressful when we've got things in order.

What has been most surprising to me is the government response to the pandemic. I've been impressed by those at the state and local level, and the global response has been interesting to watch as well. So many people have risen to the occasion, and I am grateful for that. It's disturbing to listen to fervent debates about reopening when we've collectively lacked testing and other methods for responsibly controlling what we can control.

The other thing that surprises me is how much something like this pandemic has done to show us a different way of living. I'm aware that there is profound suffering and economic hardship, but I also sense that some of the push to "return to normal" lacks a compelling rationale beyond a general cry for normalcy. Meanwhile, cleaner air, quieter streets, and other consequences of this interruption are clearly not bad things. Most stunning to me was to read that Seattle recently closed 20 miles of residential streets to through traffic…permanently. That's amazing, and as someone who likes to bike, I welcome those kinds of changes for people's health and well-being, not to mention that of the planet. Eastern cultures (more than Western) tend to place the good of the collective over the good of the individual, at least in mindset if not in actual policy and practice. I see young voters, poorer constituents, and other disenfranchised saying to hell with the old model, let's create a system that takes better care of the greater good, instead of prioritizing someone's gain over another's.

No matter who you are, it's clear that nobody is doing what they had planned to do six months ago. I've tried to embrace the future as opposed to longing for the impossible, but I do certainly slip into wishing and wanting things I knew before. I'm optimistic as I said before that this will help guide us in a new direction.

Perhaps the other basic thing is just social interaction. We all need that, and some of us seem to need that more than others. I'm certainly grateful my family lives on a street like Mr. Roger's neighborhood, where we all know each other and gain comfort from one another's presence, even if it's socially distant.

I don't want to "return to normal" on all things, because I take issue with the wisdom of that. We are clearly at a crossroads and need to rethink how we want to live. It's hard to imagine all of the permanent changes. Will we continue to localize our economies, especially our food systems? Will we take the positive effects of the global pandemic—cleaner air and reduced carbon emissions, in particular—and prioritize these in some way? Will we still gather in large groups for sports and other large events?
I would not pretend to have many—or any—answers, but I do wish for a future where competition is somewhat or largely replaced by cooperation. As a member of the city tree board, I have been involved with planting trees in several ways. Just this week my wife and I have met with folks in churches and schools to plan and plant trees. The city is very much on point with this, even in the midst of all that's been happening. As I ride my bike around town, I see lots of new trees, and it gives me some hope for Goshen's future. I trust that we'll continue to find ways to enrich the place we call home.


Click here to find more Community Stories