Children's Department Computer Use Guidelines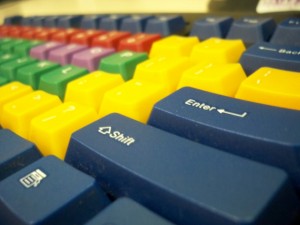 You must present your library card to check out timed sessions on the computer. You may use 1 checkout exception every 2 months.
Only children ages 12 and under may use the computers.
Children ages 6 or under need to have a parent present when using the Internet. Only the child is able to control the mouse and keyboard unless the child is having difficulties. If you have problems with the computers, please come and ask for assistance at the desk.
Only the person who has the computer checked out at that time may be at the computer station, unless permission has been given by the librarian at the desk for one other person to be at the station.
You may checkout the computer for 30 minutes at a time with a total of 2 hours per day.
The following are banned activities on the Internet computers:
Chat rooms: Myspace, Facebook
(these sites ask for ages 14 and older at sign-in and are not age appropriate for the Children's room)
Music Videos
Violent Games
If violations occur, you may be asked to leave the computer. If violations are repeated, you may lose your computer privileges.
Any tampering with the system will not be tolerated, and will result in loss of computer privileges.
If damages occur to the printer, and/or the computer, the person who has the station checked out at that time will be held responsible.
Our goal is to be accommodating and fair to all children who wish to use the Children's Department computers. They are here for your enjoyment and educational purposes.