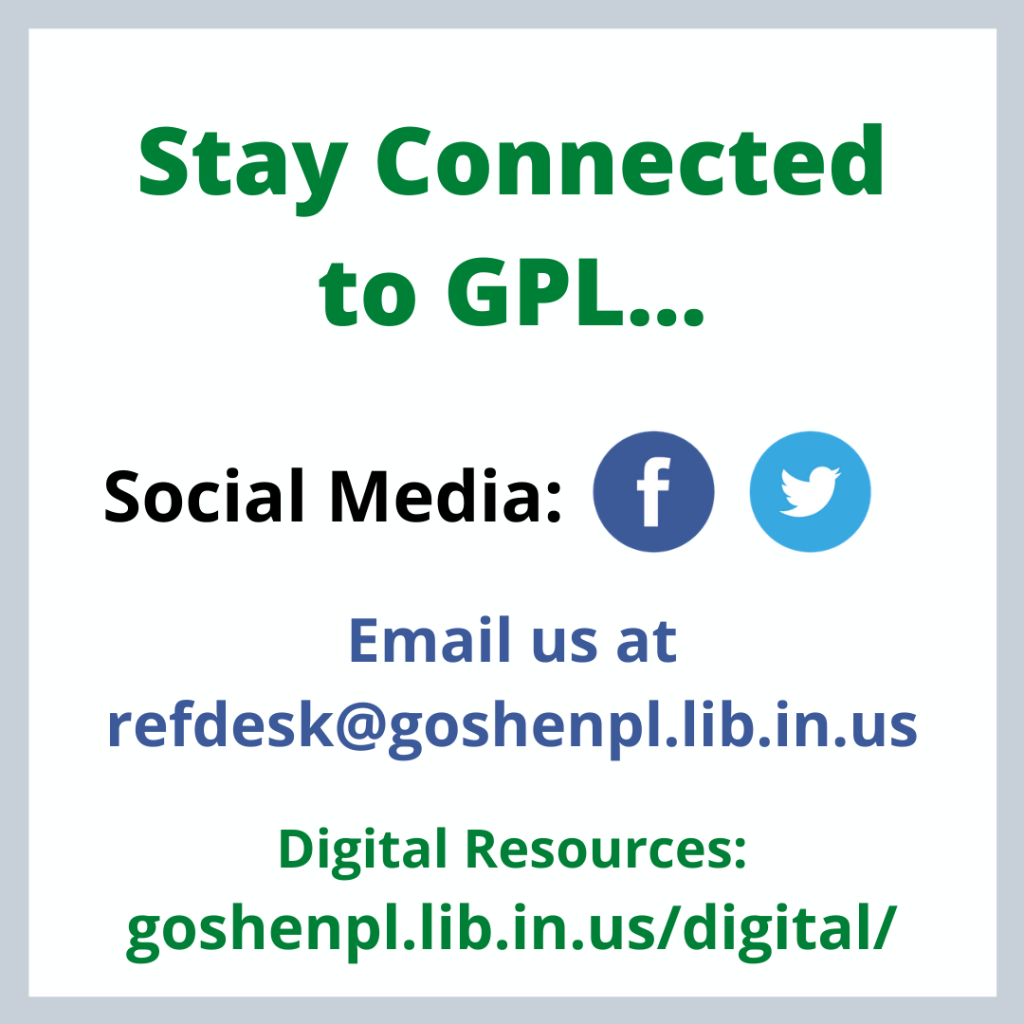 FAQ: COVID-19 & GPL Services
Click HERE to read a message from the Director outlining the steps we're taking to reopen.
What library services can I use?
GPL to Go – Contactless Curbside Service is now available! Place holds on items and receive notification when they are available for you to pick up at the front entrance of the library. Find out more information here.
We are open Tuesdays, Thursdays, and Saturdays from 10 am – 2 pm for those needing essential services related to filing for unemployment, SNAP, and other benefits. Find more information here.
Our digital content including educational databases, eBooks, eaudios, movies, magazines and more can be found by visiting our website at goshenpl.lib.in.us/digital/. Looking for book recommendations? Check out our Goshen Public Library Goodreads page or the GPL Staff Picks available in our OverDrive collection.
Our Wi-Fi access remains free and is accessible in our front parking lot.
Can I sign up for a library card online?
You can request a temporary Digital Card during this time. (You do need to be a resident in our service area.) This card will give you access to our digital collection of ebooks, audios, emagazines, movies, music and databases. Click here to find out how to submit a request.
How can I contact the library? Call the library at 574-533-9531 between 10am-2pm Monday – Saturday to talk to a GPL staff person. You may also submit questions using our online Contact form and we'll get back to you as soon as possible.
Where can I see updates about GPL? Please monitor our social media accounts and website frequently for updates and for educational and entertaining content created for all ages. These are rapidly changing times and so it is likely you will find our information may change throughout this period of limited access until we are ready to reopen.
What should I do with the library items I currently have at home?  You may return books and DVDs in one of our outside drop boxes. Audiobooks and CDs may be returned during curbside service hours on Mon, Weds, and Fri, from 2 pm – 6 pm. Look for the bin near the library doors. If you don't see it, ask a staff person at the door.
When will programs and meetings start back up?
We have made the decision to cancel all programs and meetings through June, just to be on the safe side and continue social distancing. We are sorry for the inconvenience, but for a while, our community needs to take this precaution.
Why is there temporary fencing around the library? The fencing is in place because of the ongoing re-roofing project. Once the roofing work is complete the fencing will be removed.